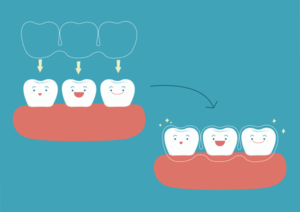 If you are looking for an Invisalign provider in Greenpoint NY, trust Dr. Mani Alikhani, Dr. Thomas Lien, and the team at the House of Orthodontia. Dr. Alikhani and Dr. Lien know that getting braces can be a bit intimidating, which is why they offer options like Invisalign to his patients of the House of Orthodontia.
Why Choose Invisalign?
Invisalign is effective and convenient alternative to traditional metal braces. Dr. Alikhani and Dr. Lien have the knowledge and experience to answer the questions of their patients about the clear aligners, including whether this form of treatment is an appropriate option for them. These clear braces offer a ton of benefits to the wearer.
Invisalign Greenpoint NY
What to expect from Invisalign:
Comfort: The clear aligner trays are smooth, and doesn't have hard metal materials that can cause abrasions to your tongue and cheek.
Removable: Have special event coming up? Sports? Simply remove the aligner trays. Scared you'll have to make lifestyle changes? Nope. There are no food restrictions with the aligners. For cleansing, brush the aligner trays with denture cleaner whenever you brush your teeth.
Less time: Invisalign in Greenpoint NY requires fewer visits to the orthodontist and less time for treatment when worn correctly. Dr. Alikhani and Dr. Lien recommend that you wear your aligner trays approx.. 23 hours per day.
---
Dr. Alikhani, Dr. Lien, and the team at House of Orthodontia are experts in Invisalign. If you have any questions pertaining to braces, clear braces, Invisalign, or Invisalign Teen in Greenpoint NY, Cobble Hill, NY, Brooklyn Heights, NY, Boerum Hill, NY, East Village, NY or the 11201 zip code area, or would like to schedule a complimentary consultation with Dr. Alikhani or Dr. Lien, contact House of Orthodontia at: (718) 852-4414.