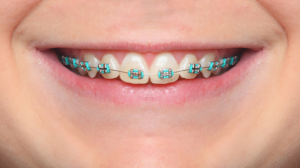 Braces are the most common form of orthodontic treatment. Dr. Mani Alikhani and Dr. Thomas Lien alongside the team at The House of Orthodontia have many different types of braces in the East Village of NYC that patients have to choose from. Luckily, traditional metal braces aren't the only option, anymore!
Types of Braces: 
Clear/ceramic braces which are made from a ceramic material. The pieces are larger and more brittle requiring more oral hygiene care than other options.
Lingual braces are hidden behind your teeth. They are customized to fit the shape of your teeth perfectly. Since they are behind the shape of your teeth they are difficult to see from the casual observer.
Self-ligating braces are made from the same material as traditional metal, but don't require the use of rubber-bands and wires. Instead they use a specialized clip that holds your teeth in place.
Invisalign are a set of clear aligners that are clear, comfortable and removable. They are made from plastic trays and are customized to mold to the shape of your smile.
Invisalign treatment is quickly gaining popularity due to the fact that it is super convenient! Not only are the aligner trays nearly invisible, but they are removable. This makes eating and maintaining dental hygiene while receiving treatment much simpler!
Braces in the East Village of NYC aren't just for teenagers, anymore! Adults and working professionals are embracing the many forms of more discreet braces in order to perfect their smiles. Dr. Alikhani and Dr. Lien and our talented team understand that a beautiful smile can help to build confidence at any age!
---
Dr. Mani Alikhani, Dr. Thomas Lien, and the team at House of Orthodontia are expert orthodontists. If you have any questions pertaining to braces, clear braces, Invisalign, or Invisalign Teen, there are 2 convenient locations; Brooklyn – Cobble Hill, NY, Brooklyn Heights, NY, Boerum Hill, NY; or Manhattan – East Village, NY, Grammercy Park, NY, Stuyvesant Town, NY.  Schedule your complimentary consultation today and contact House of Orthodontia at: (212) 392 – 4789.